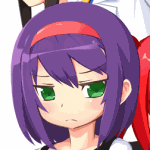 Vital Character Statistics
Name: Anna Moegi
Series: Ai Mai! Moe Can Change!
Ranking: 3.00 Vote Count: 2
Last vote: January 8, 2013 11:58:08 AM MST with a vote of 1
Detailed Statistics
Ranking Position:
Serieswide: 6th of 6 characters
Sitewide: 1,347th of 1,798 characters
Vote Count Position:
Serieswide: 4th of 6 characters
Sitewide: 428th of 1,798 characters
Database Presence:
Entered in database:
September 23, 2012 1:47:49 PM MST (7 months, 28 days)
Description
Anna is a young girl and Chie's friend. Her withdrawn personality and sullen expression is a sharp contrast to Chie's cheerfulness, but the two get along well enough for Anna to have accompanied Chie on her mission to become a Navi Girl. Anna is easily embarrassed by Chie's lack of tact.