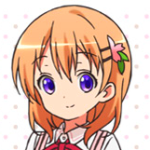 Vital Character Statistics
Name: Cocoa Hoto
Series: Is the Order a Rabbit?
Ranking: 8.30 Vote Count: 10
Last vote: December 2, 2018 1:44:38 AM MST with a vote of 10
Detailed Statistics
Ranking Position:
Serieswide: 1st of 9 characters
Sitewide: 149th of 2,571 characters
Vote Count Position:
Serieswide: 2nd of 9 characters
Sitewide: 471st of 2,571 characters
Database Presence:
Entered in database:
July 1, 2014 11:45:56 AM MST (4 years, 12 months, 18 days)
Description
Cocoa is a girl who has arrived in a new town to attend a new school. Upon moving into the Kafuu residence, she begins employment at the Kafuu's cafe, the Rabbit House, whereupon she immediately becomes attached to co-worker Chino. Cocoa is a sweet and generous girl whose apparent airheadedness conceals real talent she has in a variety of areas, and whose doting upon Chino as if she were a younger sister makes Chino uncomfortable.