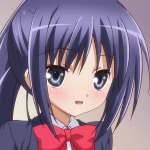 Vital Character Statistics
Name: Aoi Ogiyama
Series: Ro-Kyu-Bu!
Ranking: 8.00 Vote Count: 1
Last vote: October 13, 2016 4:49:37 PM MST with a vote of 8
Detailed Statistics
Ranking Position:
Serieswide: 1st of 13 characters
Sitewide: 213th of 2,571 characters
Vote Count Position:
Serieswide: 2nd of 13 characters
Sitewide: 2,264th of 2,571 characters
Database Presence:
Entered in database:
October 13, 2016 4:44:33 PM MST (2 years, 7 months, 11 days)
Description
Aoi is Subaru's childhood friend and a fellow former member of the currently suspended high school basketball team. Being in the dark about Subaru's coaching of the girls' team, she grows increasingly frustrated by his sudden unavailability and decides to investigate. Aoi has had feelings for Subaru for a while, but has enough trouble admitting those feelings to herself let alone convincing herself to tell Subaru.